Bottom line:  Ripple bullish structure remains intact since 0.7160 lows but an interim corrective phase could be underway towards 0.2400 levels.
Technical Analysis:
Ripple bulls are in complete control after breaking above 0.3150 resistance last week. It had managed to print fresh highs at 0.3460 levels before initiating a pullback, which was expected. With bulls in control in the long term, we expect a corrective phase towards 0.2400 levels and it might have begun since 0.3460 highs. Please note that Fibonacci 0.618 retracement of the entire rally between 0.7160 through 0.3460 is seen around 0.2400 levels. The correction might be unfolding into an A-B-C zigzag, of which Wave A could be in place at 0.2700 levels. If the above is correct, we can expect a Wave B rally towards 0.3000/100 levels before Wave C drops to 0.2400 levels to terminate Wave 2 as highlighted on the chart here. Looking into the counts since 0.7160 again, Ripple might have unfolded into 5 waves producing a lower degree Wave 1 at 0.3460. Ideally, a 3 wave corrective drop is expected to retrace lower and terminate into Wave 2. We can expect a sharp Wave 3 rally after that could push through the next resistance at 0.5000 levels. Overall Ripple stays into a strong bull run that could last for the next 12-15 months, taking prices up to 0.8000/1.0000 and higher. As a larger picture, a higher degree Wave (3) has resumed since 0.7160 lows and is expected to target above 0.3300 levels over the coming months. Of the 5 wave rally within Wave (3), we have just got a lower degree Wave 1 between 0.7160 and 0.3460 levels respectively. Most traders might be willing to take some profits back home on the longs initiated earlier and stay aside for the corrective drop to materialize.
Prepared by
Harsh Japee, Technical Analyst.
Ripple Chart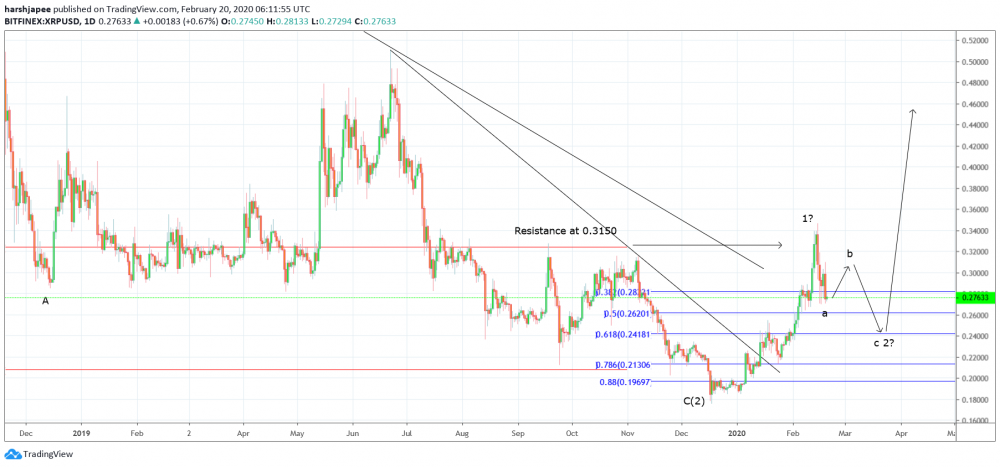 ---
MyFxtops 邁投
(www.myfxtops.com) -Reliable
Forex Copy Trade
community, follow the master for free to trade!
Disclaimer: This article is reproduced from the Internet. If there is any infringement, please contact us to delete it immediately. In addition: This article only represents the personal opinion of the author and has nothing to do with Mato Finance The originality and the text and content stated in this article have not been confirmed by this site. The authenticity, completeness and timeliness of this article and all or part of the content and text are not guaranteed or promised. Please refer to it for reference only Verify the content yourself.
Copyright belongs to the author.
For commercial reprints, please contact the author for authorization. For non-commercial reprints, please indicate the source.
MyFxtops迈投(www.myfxtops.com)-靠谱的外汇跟单社区,免费跟随高手做交易!
免责声明:本文系转载自网络,如有侵犯,请联系我们立即删除,另:本文仅代表作者个人观点,与迈投财经无关。其原创性以及文中陈述文字和内容未经本站证实,对本文以及其中全部或者部分内容、文字的真实性、完整性、及时性本站不作任何保证或承诺,请读者仅作参考,并请自行核实相关内容。
著作权归作者所有。
商业转载请联系作者获得授权,非商业转载请注明出处。