Bottom line: DAX long term structure continues to remain bearish until prices trade below 13800 mark. The counter trend rally might be into its last leg towards 11500/600 levels before the indice could find resistance again.
Fundamental Outlook:
DAX posted an impressive rally bouncing back from last week's low at 10160 (gap opening) and closing around 11058 yesterday. The German Indice gained over +5.50% as Germany and France came up with a joint proposal for the EU recovery fund of EUR 500bn. The German and Euro zone Economic Sentiment Index to be out around 05:00 AM EST is expected to rise, which could further boost the above rally.
WTI Crude and Brent gained close to +8.0% yesterday to close at $32.20 and $35.45 per barrel respectively. It was their highest close since April 2020, backed by Global Equity markets. The SPX500 and Dow Jones also rallied to their highest levels since March 23, 2020 posting gains of over +3.0% each. News for near potential COVID-19 find by Moderna Inc. fueled the above rally, shrugging off US-China tensions at least for now.
Gold managed to open this week into the green again and rallied to fresh highs at $1765 before reversing lower. The Fed remains committed to do whatever it takes to support the economy and there could be more stimulus coming if required. Watch out for FOMC minutes to be out tomorrow for further tone and guidance.
Technical Analysis:
DAX continues to remain in control of bulls as the indice rallies past 11000 mark yesterday. By all means, this is just the last leg within the proposed counter trend rally, which began from 7950 levels in March 2020. It is projected to push towards 11500/600 mark before reversing lower again.
Intermediary support now stands around 10160 mark, last week's low, and DAX needs to break below that to confirm that a meaningful low is in place. Also note that 11500/600 is marked by fibonacci 0.618 resistance, hence probability for a bearish reversal remains high. Expect intraday dip towards 10800/900 levels, before resuming towards 11500/
Most traders might be preparing to initiate fresh or add short positions around 11500/600, with protective stops above 12500/600 and projected targets below 7950 respectively.
Prepared by
Harsh Japee, Technical Analyst.
DAX Chart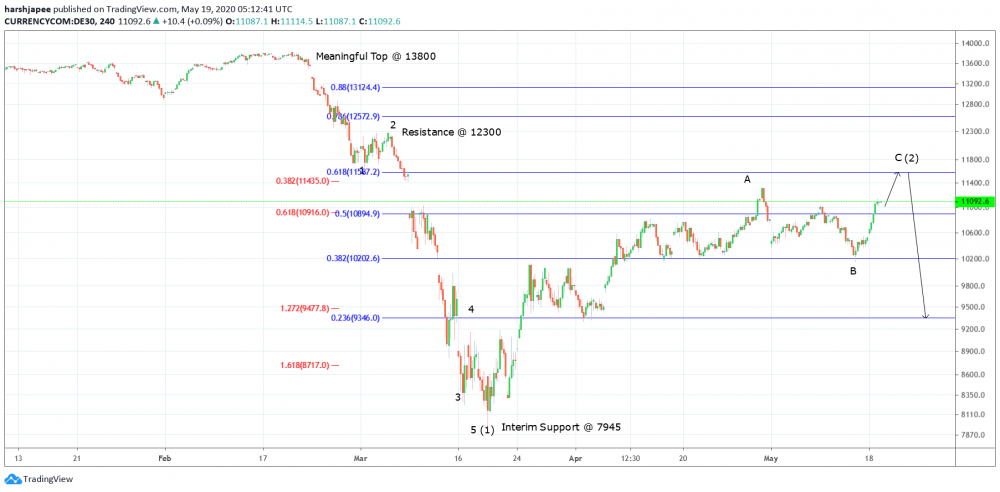 ---
MyFxtops 邁投
(www.myfxtops.com) -Reliable
Forex Copy Trade
community, follow the master for free to trade!
Disclaimer: This article is reproduced from the Internet. If there is any infringement, please contact us to delete it immediately. In addition: This article only represents the personal opinion of the author and has nothing to do with Mato Finance The originality and the text and content stated in this article have not been confirmed by this site. The authenticity, completeness and timeliness of this article and all or part of the content and text are not guaranteed or promised. Please refer to it for reference only Verify the content yourself.
Copyright belongs to the author.
For commercial reprints, please contact the author for authorization. For non-commercial reprints, please indicate the source.
MyFxtops迈投(www.myfxtops.com)-靠谱的外汇跟单社区,免费跟随高手做交易!
免责声明:本文系转载自网络,如有侵犯,请联系我们立即删除,另:本文仅代表作者个人观点,与迈投财经无关。其原创性以及文中陈述文字和内容未经本站证实,对本文以及其中全部或者部分内容、文字的真实性、完整性、及时性本站不作任何保证或承诺,请读者仅作参考,并请自行核实相关内容。
著作权归作者所有。
商业转载请联系作者获得授权,非商业转载请注明出处。