EURUSD is taking a breather around the 1.123 mark after posting seven consecutive days of gains, as markets await a key decision by the European Central Bank later today.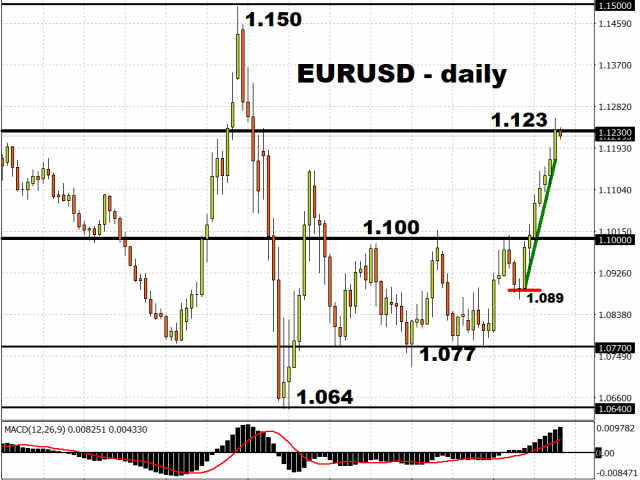 It remains to be seen whether the currency pair can truly break past the 1.123 resistance area, which proved resilient in August and December 2019.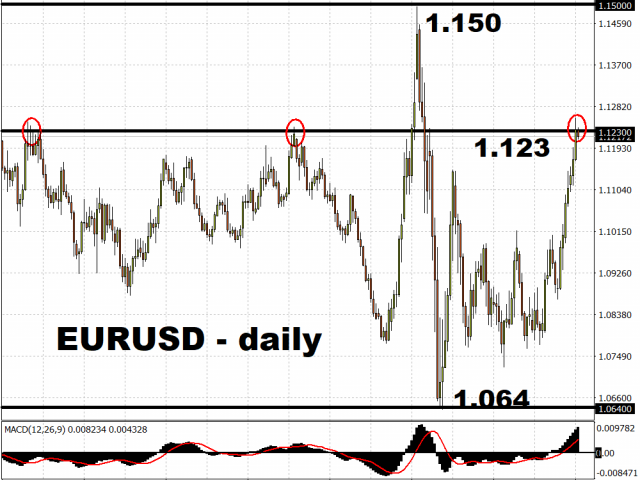 Although the ECB is set to leave benchmark interest rates unchanged, the central bank is expected to add some 500 billion Euros to its Pandemic Emergency Purchase Programme, which aims to provide support for the EU economy. Even though policymakers have only spent less than a third of the 750 billion Euros allocated for the rescue package when it first began in March, markets are already demanding that more be added.
Should the ECB hold back and not confirm market expectations over that 500 billion Euro top-up, such a surprise could see the Euro unwinding recent gains against the US Dollar, and push EURUSD back closer towards the 1.10 psychological level.
EU hobbles its way to a recovery
The Eurozone economy needs all the help it can get in order to stage a meaningful recovery.
Germany is certainly doing its part, with Chancellor Angela Merkel's political coalition giving the green light to a 130 billion Euro stimulus package. This latest move means that Germany's economic rescue measures have totaled over 1.3 trillion Euros since March. Even then, Europe's largest economy is forecasted to contract by more than six percent this year.
The Eurozone's Markit Services and Composite PMIs that were released on Wednesday are still firmly in contraction territory, even as the drop was not as steep as prior months. This suggests that the post-lockdown recovery could be a long, arduous journey, with fiscal and monetary stimulus serving as crucial crutches for the Eurozone economy as it strives to find a firmer footing in this post-pandemic era.
Such an outlook has translated into a weaker Euro against most of its G10 peers so far this month, despite the bloc's currency having strengthened against safe havens such as the Japanese Yen, Swiss Franc, and the US Dollar during the same period. Barring even more injections of stimulus measures, or a drastically brightening outlook for the EU economy, EURUSD is less likely to return to the 1.15 high.
---
MyFxtops 邁投 (www.myfxtops.com) -Reliable Forex Copy Trade community, follow the master for free to trade!
Disclaimer: This article is reproduced from the Internet. If there is any infringement, please contact us to delete it immediately. In addition: This article only represents the personal opinion of the author and has nothing to do with Mato Finance The originality and the text and content stated in this article have not been confirmed by this site. The authenticity, completeness and timeliness of this article and all or part of the content and text are not guaranteed or promised. Please refer to it for reference only Verify the content yourself.
Copyright belongs to the author.
For commercial reprints, please contact the author for authorization. For non-commercial reprints, please indicate the source.